\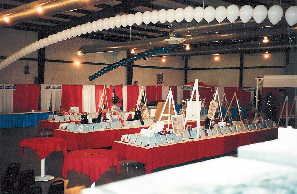 Planning a new marketing strategy? A think-tank meeting? A laid-back, get-away-from-it-all outing that has a lot of recreational activities? When you need an atmosphere conducive to productivity or far from the madding crowd, we're your best bet.
We are located on 63 rolling acres overlooking beautiful Grapevine Lake with green fields, towering live oak trees, and a 14,400 square foot air-conditioned conference center. We have fun, purposeful activities that groups can do to help them become better, effective teams. We can also provide the peace and quite you need to conduct an effective day of presentations.
So, if you're looking for a place with peace and quiet for presentations or new and exciting ways to build teams, increase camaraderie, strengthen work relationships or just have extraordinary fun as a group, please come visit with us. Have lunch and tour our beautiful ranch. Notice how quickly you get here, taste our mouthwatering food, and see the outstanding facilities we have to offer.
I look forward to meeting you.

WE'RE ALL BUSINESS WHEN IT COMES TO YOUR MEETING!
Breakfast & Luncheon Meetings
Corporate Awards
Seminars
Trade Shows
Church Retreats

Club Meetings
Workshops
Banquets
Charity Events
Holiday Events

$29.55 per person with a $738.75 minimum plus 20% service fee plus 8.25% tax.
Provided Services:
Exclusive, Private use of provided facilites;
Tables, chairs, and white linen table clothes;
Unlimited soft drink and coffee bar throughout your meeting;
Large stage for speaker;
Public address system for up to 700 guests;
Continental Breakfast: Apple and Orange Juice, Coffee, Assorted Muffins, Assorted Bagels with Cream Cheese, Assorted Fresh Fruit, and Danish Rolls;
Morning Break: Assorted cookies and brownies;
Lunch: Prime Rib carving station with Carver. Served with Dijon mustard, horseradish sauce, and mini rolls;
*Activities available upon request:
Soccer,
Softball (bring youor glove),
Volleyball,
Horseshoe pits,
Two private fishing ponds
(bring pole & bait),

Ping pong tables,
Hay wagon rides,
Sack races,
Tug-of-war
*Add an Western Touch to Your Meeting:
Horseback riding: $2.50 per person with a $500.00 minimum
Line dance instruction: $125.00
<! ** Begin Internal page navigation ****>

(Click here see our Menu Options.)




(Click here to see additional service options.)




(Click here to see our HORS D'OUVRES service options.)




(Click here to see our Alcohol service Options.)


<! ** End Internal page navigation ****>

$22.55 Per Person, $563.75 minimum plus 20% service fee plus 8.25% tax
PROVIDED SERVICES:
Exclusive, private use of provided facilities;
Tables, chairs, and white linen table cloths;
Unlimited Soft drink and coffee bar throughout your meeting;
Large stage for speakers;
Public address system for up to 700 guests;



Continental Breakfast: Apple and Orange Juice, Coffee, Assorted Muffins, Assorted Bagels with Cream Cheese, Assorted Fresh Fruit, and Danish Rolls;



Morning Break: Assorted cookies and brownies;
*Activities available upon request:
Soccer,
Softball (bring youor glove),
Volleyball,
Horseshoe pits,
Two private fishing ponds
(bring pole & bait),

Ping pong tables,
Hay wagon rides,
Sack races,
Tug-of-war
*Add an Western Touch to Your Meeting:
Horseback riding: $2.50 per person with a $500.00 minimum
Line dance instruction: $125.00
Tractor pulled hay wagon rides: $225.00
<! ** Begin Internal page navigation ****>

(Click here see our Menu Options.)




(Click here to see additional service options.)




(Click here to see our HORS D'OUVRES service options.)




(Click here to see our Alcohol service Options.)


<! ** End Internal page navigation ****>

We can add facilitator supervised "fun games" designed to build teams, increase camaraderie, and strengthen work relationships:
Hula Hoop Pass:

First, the group stands in a circle holding hands. A hula-hoop is placed at a starting point, (with peoples hands joined through the hula-hoop). They pass the hula-hoop around the circle without breaking hands. They have to maneuver their bodies through the hoop in order to accomplish this. After they finish this, we add a second hoop and send it in the opposite direction. Second, the group lines up in a single file line (facing same direction) and hold hands. A Hula-Hoop is passed from one end of the line to the other. Again, they have to maneuver their bodies through the hoop.

Barnyard Call:

Participants are divided into equal teams. They are then asked to think of a barnyard animal to represent their team. (all teams are different animals). At this point the participants are blindfolded and spread out at random. The object is for the team to come together making only the sounds of their barnyard animal.

Pole Race:

The object of this game is to transport a long PVC pipe from one point to another while straddling the pole and using no hands. It is a race although the winning doesn't mean as much as the fun.

*** Please ask us about our Theme Team Building Programs***

<! ** Begin Internal page navigation ****>

(Click here to return to the top of the page.)




(Click here to return to the Full Day Package.)




(Click here to return to the Half Day Package.)


<! ** End Internal page navigation ****>

RANCH BREAKFAST:

Apple and Orange Juice, Coffee, Scrambled Eggs, Sausage and Bacon, Homemade Biscuits, Gravy, Jalapeno Potatoes;

RANCH BARBECUE:

Tender beef brisket, sliced chicken breast, and sausage served with bbq sauce, pinto beans, home-style potato salad, creamy coleslaw, pickles, peppers, onion slices, dinner rolls, warm peach-apple-cherry cobblers served warm, dinner rolls. Add Ham, turkey, or ribs for and additional $2.00 per person, per meat:

RANCH TEX-MEX:

Beef & Chicken Fajitas served w/Spanish rice, refried beans, guacamole, pica de gallo, fresh salsa, sour cream, cheese, tomatoes, tortillas, and sopapillas;

BONELESS, SKINLESS, CHICKEN BREAST: W/tossed salad, ranch dressing, mashed potatoes & gravy, green beans, dinner rolls; PORK LOIN with CRANBERRY SAUCE: W/Tossed salad & ranch dressing, baked potato w/all the fixins', English peas, dinner rolls, New York cheese cake; Pasta Station:

Penne, tri colored rotini, bow tie, spinach fettuccini w/Marinara and Alfredo sauces, marinated chicken, fresh garlic, chopped onions, sun dried tomatoes, garlic bread;

Ham, Breast of Turkey or Prime Rib Station with Carver:

Served with Caesar Salad and mini rolls Tender Roast Beef w/mushroom sauce. Served with Au gratin Potatoes, assorted vegetables, French bread, New York Cheese cake for dessert.

WE PROVIDE THE FOLLOWING MEAL SERVICE OPTIONS:

Your proposal includes a buffet style for 1 hour and 45 minutes. Service includes disposable plates, plastic silverware packets, white on white skirted serving tables, white linen tablecloths for guest tables, utensils, chafers, iced tea, coffee, soft drinks, lemonade, dinner rolls, and food attendants based on number of guests.



For an additional charge of $5.00 per person you can have a buffet style service for 1 hour and 45 minutes with real plates, glasses, silverware, and cloth napkins. Service includes skirted white on white serving tables, real plates, glasses, and silverware. Silverware wrapped in cloth napkin on guest table, white linen tablecloths, chafers, dinner rolls, iced tea, coffee, and soft drinks. Attendants based on number of guests.



For an additional $9.00 per person you have a plated sit down table service. White linen tablecloths, linen napkins, silverware, glasses, iced tea and coffee. Wait staff based on number of guests.

<! ** Begin Internal page navigation ****>

(Click here to return to the top of the page.)




(Click here to return to the Full Day Package.)




(Click here to return to the Half Day Package.)


<! ** End Internal page navigation ****>

Cheese tray: $4.75 per person:

With Monterey jack, cheddar, Swiss, jalapeno jack, and accompanied by crackers.

Garden Vegetable Tray: $4.25 per person:

With broccoli and cauliflower fluorites, carrots, cherry tomatoes, zucchini, yellow squash, bell peppers, served with ranch dip.

In Season Fruit Tray: $4.95 per person:

With seasonal sliced fresh fruits: Kiwi, strawberries, grapes, pineapple, honey dew, cantaloupe, watermelon, served with special sauce.

Mini Beef Wellington: $6.00 per person:

Served with rolls and condiments.

Coconut Chicken Tenders on skewers: $5.25 per person

Hawaiian Chicken Tenders on skewers: $5.25 per person

Spring Vegetable Egg Roll: $4.25 per person

Egg Roll with Sweet and Sour Sauce: $4.25 per person

Swedish Meatballs in sauce: $4.25 per person

Scallops wrapped in bacon: $5.25 per person

Fresh Shrimp Display (cocktail sauce): $8.00 per person

Mushroom caps stuffed with crabmeat: $4.25 per person

<! ** Begin Internal page navigation ****>

(Click here to return to the top of the page.)




(Click here to return to the Full Day Package.)




(Click here to return to the Half Day Package.)


<! ** End Internal page navigation ****>